A brief conversation with Savitha Ravi, a young talented artist from the Art Incept family.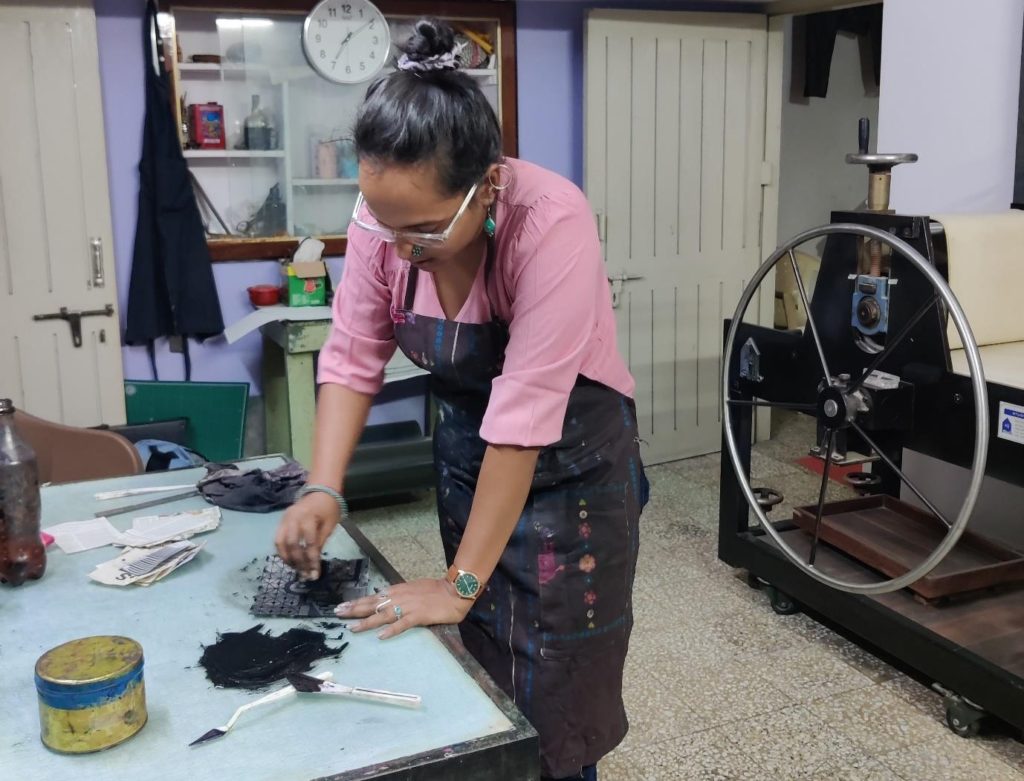 As a printmaker, she combines traditional mediums to create unique works. She has also used alternative printing techniques to take prints out of daily and easily available materials such as cardboard, jute cloth, textured paper, tetra packs, etc. While Savitha is primarily focused on printmaking, her recent works show her progress in different mediums and techniques, such as painting on prints.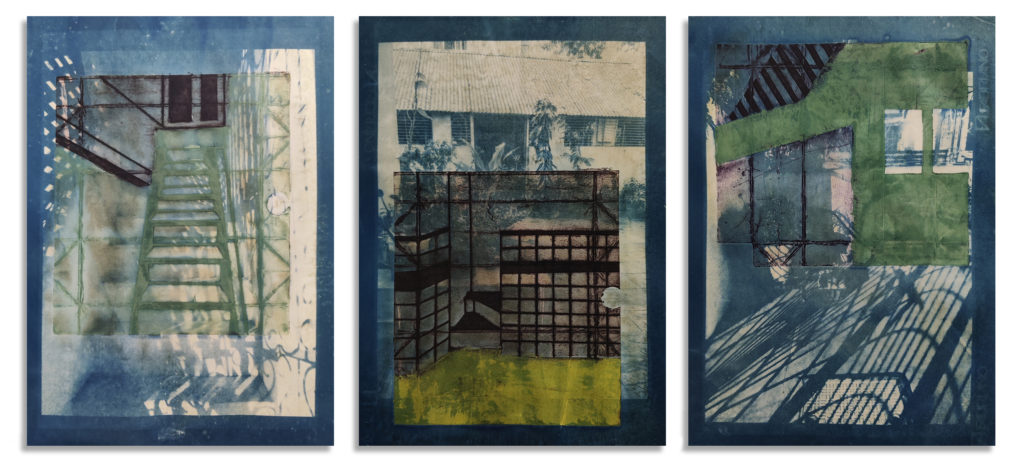 Savitha brings together fragments of different architectural and spatial elements she acquired from her surroundings and her journeys in her prints to create an ideal space she wishes to be a part of. The repetitions and overlapping patterns in her artworks show her fascination with the endless reiteration of various architectural forms to create an expansive space. They also capture the intangible history behind the space she creates showing appreciation for these spaces one takes to be mundane. Her works involve sharp architectural shapes along with delicate patterns and elements that evoke a sense of nostalgia. These constructed spaces lack human presence to show their permanence acting as an archive for the memories and the numerous stories she wishes to depict. While her works have progressed with time, the core meaning remains the same – the search for an ideal space where she belongs.
Please tell us a bit about your practice.
My practice is a continuous process. I need at least 3-4 months to work on a series. I need to think about it and have a clear vision in my head before I start. Photos are my main point of reference. I
constantly take photographs of everything I see. I also cut interesting images from magazines.

Being an artist was strangely not my choice growing up. I have always loved art and have been fascinated with colours, but just as a hobby. I was studying to do my Chartered Accountancy. It was my mother who was insistent initially that I look seriously at being an artist – she wanted an artist's life for me rather than a 9:00 am – 5:00 pm job! (She loved to draw and doodle but she was not allowed to take up art and did her Bachelor's in Math instead.) She, in fact, filled out college admission forms on my behalf. However, once I started studying, I realized this was for me. I chose printmaking because I was fascinated by the process.
Who has been the most supportive of you as an artist?
My mother is the most excited about my work and supports me in every way to ensure I can build my practice. Right now, my friends and family are supportive of me, and of course, Art Incept has been of great help.

Where do you draw your inspiration from?
I am a maker by heart. When I look at something that I like whether it is a lamp, a dress, or anything else, my first reaction and urge(impulse) is to think about how I can make it for myself. It is not about buying it for myself and that is where I differ from my friends.
How has the journey been so far?
Very exciting and interesting. Every year I take it upon myself to learn something new – either in terms of art or anything else. For example, last year I learned how to paraglide. I think I can expand my mind with the new things I learn, which in turn adds to my practice.
Over the years, has there been a change in the way you are treated as an artist because of your gender?
As a woman, I feel the difference more in the business than in the art world. Often people don't take me seriously as a businesswoman but I don't feel that as an artist. I feel in fact the struggles are the same for both women and men artists as the family expectations are different. There were more women artists studying art in college than men – but many I feel don't take it on as a career later and drop out slowly because of personal/family commitments after marriage.
You've recently started creating artworks in different mediums and prints. How would you say you have progressed in your practice in these past years?
I used to use cyanotype before, now I have started using gum bichromate as well to add colour to the artwork to bring that brightness. I have started painting on prints and canvases. The "Ideal Home" is an ongoing series and it keeps changing according to new places I visit or what I am feeling at the moment.

For my solo work, the whole idea of the artworks is the search for belongingness and how we feel we belong in that space, as well as the illusionistic work or the daydream state we go into while searching for that space. When I talk about nature, it is referenced to time-so the flow of water, the growing trees and plants, are all representations of time. As time changes, the desire and the willingness remain the same, even if the time has changed.
What are your suggestions for young emerging artists like yourself?
My suggestion would be to do what you like and not worry only about what society thinks and expects of you. Be truthful to yourself and find peace in your own work. Don't give up!

We all need the support of someone else to carry on.
Stay tuned for Savitha Ravi's Solo Show "Where do I belong…home. heart. history." | Curated by Rahul Kumar | Preview on 2 August 2023, 6pm onwards at Shridharani Gallery, Triveni Kala Sangam, New Delhi
About the Author
Khundongbam Ritu Devi works at Art Incept where she learns and appreciates the timeless value of contemporary art. As a museologist, her interest lies in preserving artworks and supporting artists connect with the general public.