Exploring the art practice of Brojeswer Mondal
Written by Rahul Kumar
Artists have a unique liberty, not only to choose their media and process, but to manipulate it, treat it to present their idea. And in doing so, every bend and fold, every tear and layer of the paper is important in communicating the story that they choose to tell. And the very practice of mark-making then becomes a way to compliment and add to the discourse, often not becoming the primary element by itself. Brojeswer Mondal is one such artist whose works are so quiet that they whisper. There presence is akin to a beating heart or melting cube of ice.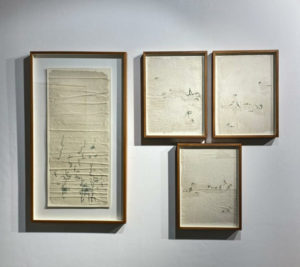 Mondal grew up in Siliguri, Darjeeling. It was a small town then, surrounded with forests and hills. "We were at the foothills. I frequented to the mountains and enjoyed spending time in nature," he says. At the age of seven I began taking art classes with a local teacher. His parents had a keen interest for the arts and they encouraged him. As he grew and he became better with his craft, Mondal began focusing on real-life outdoor studies. "This was important to get admission in a good art college," says Mondal. After completing his schooling, he began his bachelors at the Government Art College in Kolkata. It is one of the institutions that focuses on study-based work, very similar to JJ School in Mumbai. Mondal had the knack for it already but his time there further enhanced his skill. But he had the desire to pursue concept-based work and that lead him to moving to Rabindra Bharti University for his masters.
Mondal's early work revolved around the visual study of co-existence of flora and urban structures. Juxtaposition of the natural and non-natural forms were depicted through the drawings with ink, water colour, and acrylic. He also added decorative elements and enhanced his work through a realistic pictorial imagery through textile and mix-media. "The representation of the present urban society, and for me the reference was old Kolkata and the new one that is in cohabitation, was depicted in some of my artworks through the imagery of vegetation", he says. Mondal used the idea of horticulture as adopted and nurtured by urbanists, while also ironically depicting a counter-attack of sorts by the flora where the humans have been swallowed by the plants. His recent body of work has made a slight departure towards a spiritual exploration. Mondal explains, "Meditation and drawing are the primary subjects of my current practice". He applies the meditative quality to his very process of creating the work. Drawing itself is his idea of meditation. And within that he explores a wide variety of subjects and themes. "Stylistically, I have followed the Japanese drawing culture as well as the company-painting methodology (East India Company) of the British times", he adds.
Mondal's work leaves empty spaces and hazy background, one that is trifling yet potent. The foreground of rhythmic lines refers back to the ever-altering nature. The subtle and minimal drawings compel the viewers to come closer to the artwork. It evokes a sense of connection, encouraging a minute inspection of the work, something that we may not be used to in our fast-paced lives. And this act will put the viewer on an inward journey is the humble hope of Mondal for his art.
– By Rahul Kumar