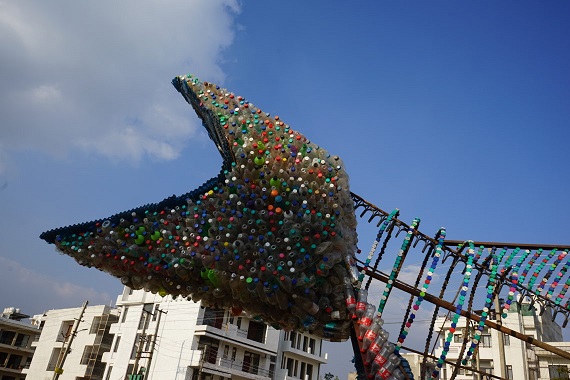 Where does it go
"The plethora of new inventions over the past few decades, combined with unlimited human wants, has resulted in creation of unmanageable waste across the earth. We have been creating permanent junk, such as plastic, on this planet for years; yet, the majority of us are not aware of the problems
related to waste management or are not motivated to regulate the amount of waste we generate."
– Arunkumar HG
Waste is a huge problem! It poisons everything –  our air, our water and the soil. We buy, we use, we throw! How often do we think where does it go? What is our role in change? We send 220 trucks of garbage out every day and our landfill in Bhandwari is overflowing! "Where does it go?" was an initiative by iamgurgaon with the Municipal Corporation of Gurugram in partnership with Artpilgrim Live, with the focus of building more awareness around the mounting problem of waste and how it impacts us through the medium of art.
Well-known artist ARUN KUMAR HG led a team of twelve local artists to build a series of immersive installations made out of waste that was collected through a waste segregation and collection drive in residential complexes and schools for nearly a month. The artists felt it was important for us to visualize the amount of waste we generate through these installations. We hope the looming structure consistently makes us question ourselves – Are we creating cities of waste?
The pieces of art not only proved to be a powerful medium to create awareness but also brought the city together.