Kumar Misal in conversation with Gayatri Singh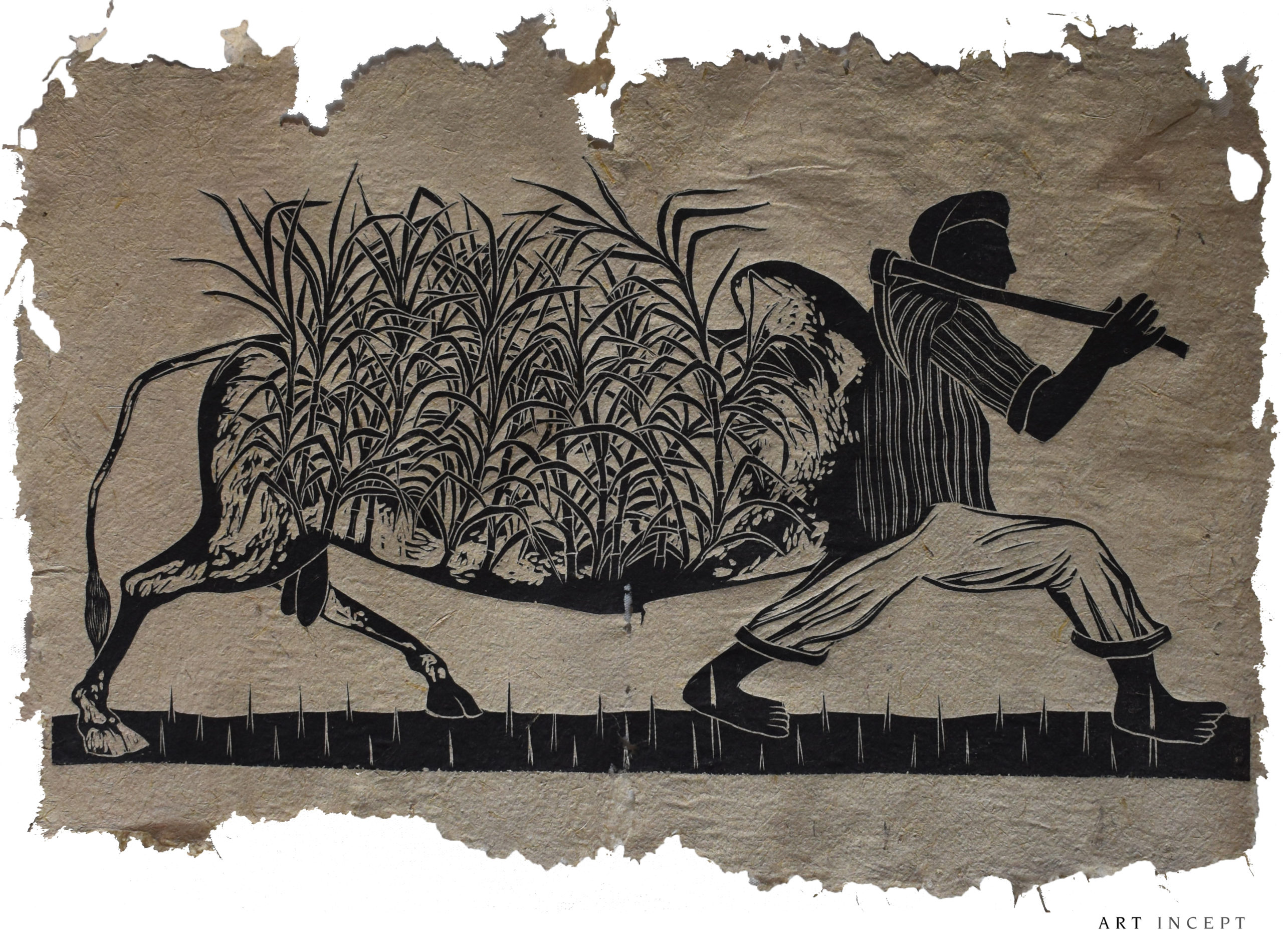 We showed Kumar Misal at the India Art Fair in April 2022. His work was deeply appreciated by many art critics and collectors. He was an integral part of the curated walks and he was also written about by art writers. Gayatri Singh interviews Kumar Misal to understand a little more about his practice and journey.
Kumar tell me a little about your journey. Did you always know that you wanted to be an artist?
I belong to a small farming community in Maharashtra, India. Our lives were focused on survival. Going to school itself was a privilege even if without shoes. Wearing torn clothes was normal and huge farm responsibilities were on all our shoulders. My father wanted a better life for me but art was not something we would have thought of as an option. In the village, art was limited to painting local signboards and decorating village festivals. My father hoped that I would join the Indian army one day.
But discovered very early on that I liked to paint.
When did you start painting? What inspired you and when were you sure that you wanted to be an artist by profession?
As a child I used to visit my grandfather who was a carpenter. During these visits, I began to use the material lying in the workshop to sketch and paint scenes from the workshop. In my spare time, I would copy images from posters and calendars that were on the walls. My mother discovered my interest and supported me by providing me with basic material that the family could afford. My school notebooks were filled with drawings and scribbles instead of notes.
I spent a lot of time early on just observing others. I would spend hours watching local signboard painters and idol makers in the village. Having no access to formal art training I tried to absorb all that I saw. Soon my work was noticed, and before I knew it I became an active participant in creative events and competitions at school and village festivals. Given my family's financial limitations it was a boon for me to take up small commission requests like painting walls and creating decorations around festival times. Artist Prashva Nandre, who came to judge a rangoli competition told me about studying art in college and about the JJ School of art. Life moved towards this and with the support of a few well-wishers, I found my way to the JJ School of Arts in Mumbai.
Moving to a large city must have been difficult. Without financial support how did you manage?
Life in Mumbai was not easy. A friend supported me for a year and I lived with him rent-free in a tiny single room in a chaul. To make ends meet, I took up odd jobs like painting portraits. In a lucky month, I even got a few assignments from the film industry. But a 2-year Government scholarship helped me reduce my commercial work and focus more on my art practice. I realized I enjoyed printmaking and therefore applied for a Masters in the subject. I could not afford to buy printmaking material. Initially, I would use the flip side of the plates that were discarded by other students.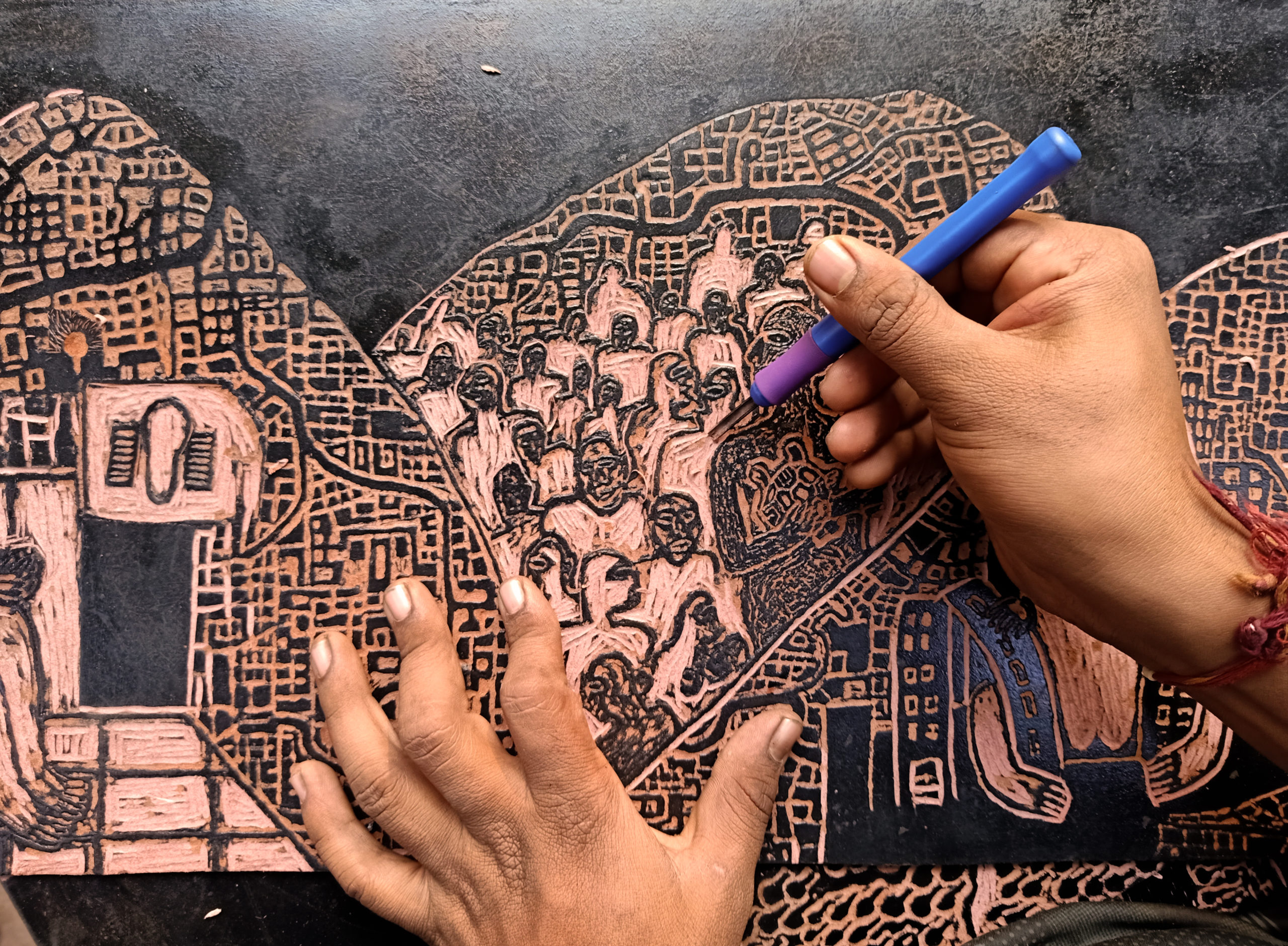 But with great adversity comes opportunity.
Paper was a huge cost for me. I stuck to small formats because I was unable to afford larger sheets of paper. One day during my Masters I received an acceptance to be part of a camp in Kerala that my teacher had applied to on my behalf.  It is at this camp that I discovered the craft of handmade paper using natural fibres. Overnight, my farming background became my greatest resource. It is amazing that this chance encounter lead to me developing the most significant aspect of my practice – the very surface I work on.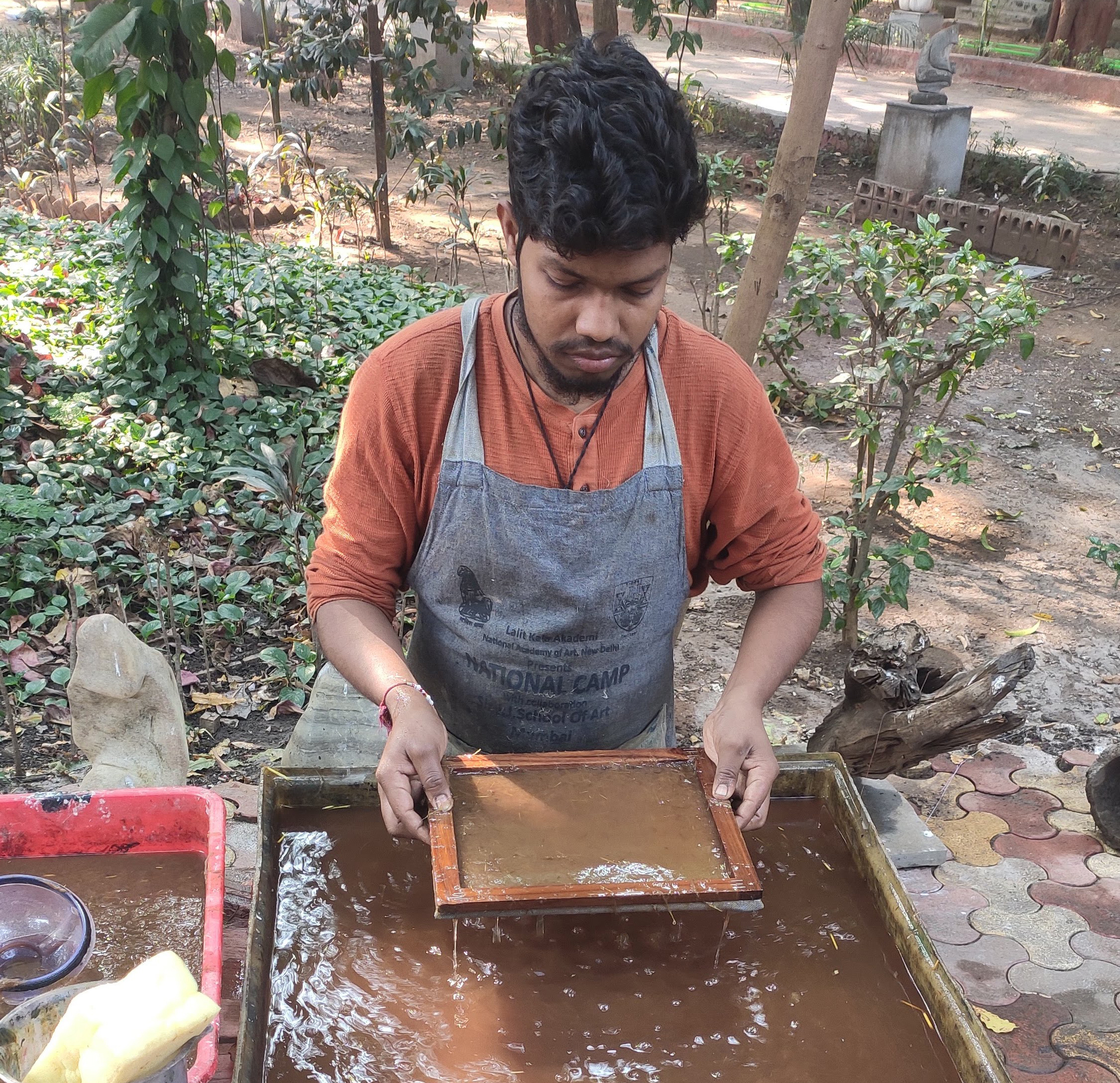 Your art seems to tell a story. What are you trying to express through your work? Is there an underlying message?
My imagery is inspired by my agrarian background. I want to tell stories of the farmers at the grass-root level. My expression revolves around their journey, their pain, and their celebrations. I often show images of large families with many mouths to feed that are typical of rural India. This includes cattle and adopted cats and dogs. Based on my experience I feel I want to communicate what I have seen – life of a farmer is a continuous barefooted walk across a big thorny mountain. A journey that continues with the hope that the next day will be better. While my art evolves from a deep understanding of the struggles, there is an underlying message of selfless love and eternal hope. It celebrates how with meagre resources people are still able to open their homes and hearts.
Kumar's work makes the viewer empathetic. It successfully does what art is meant to do – express emotions, share stories, and in the process encourage the viewer to reflect on the world around. Kumar is an artist to follow, his stories are worth listening to.
*The conversation has been translated from Hindi to English for the blog.